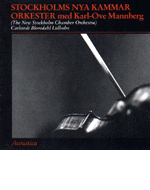 The New Stockholm Chamber Orchestra (Stockholms Nya Kammarorkester, SNYKO),
with Karl-Ove Mannberg
ACCD-1008
Sweden´s leading string orchestra, commended at numerous guest performances world-wide, plays three of Sweden´s most compelling mid-20th century works for strings: Jan Carlstedt´s "Sonata", with touches of both Dalarna and slavonic music; Karl-Birger Blomdahl´s "Pastoral Suite" inspired by the poetry of Erik Lindegren; and Ingvar Lidholm´s vigorous, vibrant "Music for Strings". Three modern `classics´ on one record that has itself become a classic.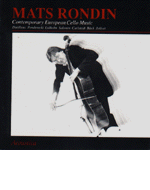 Contemporary European Cello Music
Mats Rondin, cello
ACCD-1009
A whole record with but a single cello?! Yes, but what a cellist! And what music! Mats Rondin is one of those great musicians who has found his own voice in the midst of the everyday buzz - and that he has something worth telling is obvious from this record, brimful with some of the most significant works for solo cello to have been produced by 20th century European composers such as the Frenchmen Dutilleux and Jolivet, representing mysticism; Penderecki, curiosity; the Swedes Carlstedt, Lidholm and Bäck, tradition coupled with progress.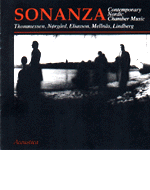 Sonanza. Contemporary Nordic Chamber Music
ACCD-1010
Sonanza is a group of young Swedish elite musicians who have been enchanted by and devoted themselves to newly written, significant music for a variety of music ensembles. On this record they perform five nordic works, all of which have, with time, achieved recognition as the most essential works of their respective composers: Olov Anton Thommessen´s "Gnostic Fragments", Per Nørgård´s "Prelude to Breaking", Anders Eliasson´s "Senza Risposte", Arne Mellnäs´ "Gardens" and Magnus Lindberg´s " ...de Tartuffe, je crois...".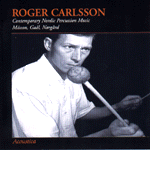 Roger Carlsson, percussion.
Contemporary Nordic Percussion Music
ACCD-1011
Percussion is mankind´s oldest form of musicmaking - it embraces so much of our dreams, our yearning for the primeval, the mystical, the ritual. This is how so many contemporary composers have felt about their attitude to percussion - not least Per Nørgård who, in his "I Ching", sought his way to Chinese antiquity. But percussion also opens up so many modern avenues, as reflected by Zoltán Gaal´s playful "Call RC" and Askell Masson´s kaleidoscopic percussion sonata. Roger Carlsson, one of Sweden´s leading percussionists, is in full command of this arsenal of sound sources, moods and expressions.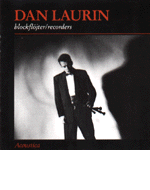 Dan Laurin, recorders
ACCD-1012
The recorder´s own repertoire is dichotomous: part archaic, part recent. This fact is one of the strengths of Professor Dan Laurin´s record. He is acknowledged as one of the world´s leading executants on his chosen instrument. He has an amazingly broad repertoire, spanning the extremes of Japanese contemporary experimental works (exemplified here by Shinohara and Hirose) and pearls from the European Renaissance (van Eyck and Marais) - yet these extremes are quite compatible, with Laurin as intermediary.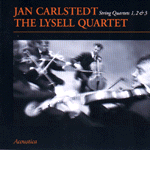 The Lysell Quartet. Jan Carlstedt,
String Quartets 1, 2 & 3
ACCD-1013
The Lysell Quartet is one of Sweden´s most eminent string ensembles, but each of these four musicians is at the same time a prominent instrumentalist with important engagements in the world of music. As a group they have been playing for a decade, sensitively, passionately, and in complete accord with one another, all the while building their essential, comprehensive and varied repertoire. In Jan Carlstedt´s first three string quartets they have found common ground. Their rendition is impeccable, spontaneous yet restrained, conventional yet exploratory.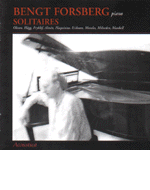 Bengt Forsberg, piano. Solitaires
ACCD-1014
As both accompanist and chamber musician, Bengt Forsberg is one of the most sought after in Europe. Few others have cultivated such a creative curiosity as he. It has drawn him deep into the archives in search of musical treasures - and he has certainly struck gold! And amazing gems. For this record Forsberg has selected pieces by Swedish composers only, who, like himself, have preferred to go their individual ways: Lars Olsson, Jacob Adolf Hägg, Harald Fryklöf, Ruth Almén, Algot Haquinius, Josef Eriksson, Olallo Morales, Ingmar Milveden and Henning Mankell. The result is fascinating, impressive and wondrously moving.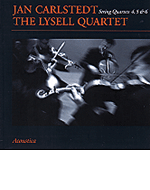 The Lysell Quartet. Jan Carlstedt. Part 2
ACCD-1015
Jan Carlstedt has, through his personal string quartets, carried forward the tradition from Berwald, Stenhammar and Rosenberg. It is deep, thoughtful music, shaped with utmost care, and with total mastery over technique and form. The members of the Lysell Quartet, who play with a remarkable sense of unity, have all these attributes in mind both in the first volume with quartet nos. 1 - 3 and in this second volume with quartet nos. 4 - 6, all presented for the first time on CD.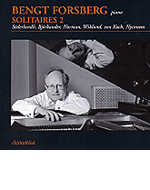 Bengt Forsberg, piano. Solitaires 2
ACCD-1016
Playing together with such musicians as Anne Sofie von Otter, Nils-Erik Sparf and Mats Lidström, Pianist Bengt Forsberg has received international acclaim, Grammy Awards, and the distinction of appearing on the "Record of the Year". His musical apetite is impressive. One can come across him as an organist, piano soloist for an orchestra, chamber musician and as the country's most exciting solo pianist. His search for new repertoire often takes him far from the beaten track, and often yields gems as confirmed by this, his second album in the series SOLITAIRES, featuring the music of Swedish composers Lille Bror Söderlundh, Nils Björkander, Ludvig Norman, Adolf Wiklund, Sigurd von Koch and Gösta Nystroem.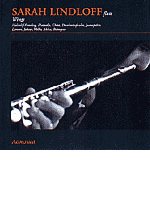 Sarah Lindloff flute. Wings
ACCD-1017
Sarah Lindloff is one of our most versatile flautists and here she has put together a programme for solo flute. It turned out to be a varied CD. There' s Jolivet's Incantation from 1936 and an Invocation by Håkan Larsson from 1994 - but also music imbued with Argentinian tango by Piazolla, nature-inspired pieces by Dimtrakopoulos and Juozapaitis. The latter are from Greece and Lithuania respectively, and to continue the international thread we also have Daniel Akiva from Israel, who has been inspired by the Sephardic Jews of Turkey. In addition the album includes music by Swedish composers such as Karl-Erik Welin and André Chini, and two women composers Carin Malmlöf-Forssling and Karin Rehnqvist. Let the flute give you wings and explore an inner and outer reality with this music.